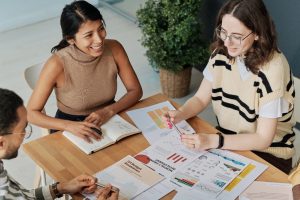 It's an exciting time to be part of SASCU! Come join a dynamic marketing team set to deliver on a fresh brand purpose that boldly inspires people, communities, and businesses.
Feel good about the work you do and your positive impact on the financial well being of thousands of people throughout the Shuswap. Carry it out among a work culture that is the perfect blend of friendliness, collaboration, and professionalism—plus fun!
As SASCU's Growth Marketing Specialist, you will be a powerful force in growing SASCU Financial Group's business lines and brand overall. Using traditional and digital marketing savvy, you will grow our membership and client numbers, strengthen relationships, and enhance financial confidence.  Delivering on strategic priorities, you will create high-quality content and effective campaigns promoting SASCU products and services to target audiences. You will advance the value of being part of SASCU.
What you'll do:
Drive leads and new business – develop and execute campaigns to effectively reach desired target audiences and achieve marketing goals.
Work closely with in-branch teams to execute their role in the campaign and optimize conversion of leads.
Create high-quality content for a variety of platforms, including SASCU's websites and social media, to promote SASCU's brand and the value of membership.
Create and manage online advertising.
Lead engagement and development of the Marketing Ambassador team to cultivate the relationships between marketing and branches.
What you'll bring:
Degree or diploma in Marketing, Digital Marketing, Communications, or a related field.
3-5 years' experience in marketing, preferably in a financial services environment, or an equivalent combination of education and experience.
Experience using online platforms and tools to execute digital marketing strategies, grow social media channels, and track engagement.
Knowledge of product lines and business processes in the financial sector; front line experience providing financial services to customers is an asset.
You're perfect for this role if you have:
Superior written and oral communication skills.
Advanced Microsoft Office skills and working knowledge of Google Ads and Analytics.
Attention to detail and high level of accuracy.
A valid driver's license and access to reliable transportation is required.
We offer:
A competitive base salary plus performance-based incentive pay.
A pension plan with SASCU matching all funds.
Comprehensive group benefits coverage including extended health and dental care, travel insurance, life insurance, and an Employee and Family Assistance Program.
Flexible spending account for health and personal wellness activities and expenses.
Flexible work arrangements and paid time off including vacation, medical/care time, a flexible "Floater Day", and paid community volunteering.
Opportunities for career growth, financial aid for training and development, and rewards and recognition.
Waived or reduced banking fees, and reduced rates on personal loans and mortgages.
This is a full-time, Monday to Friday position. It is an excellent opportunity for a community-minded individual to further their career within a successful and growing organization. If this sounds like you, let us know! To apply, please email a cover letter and résumé to us at hr@sascu.com.
Flexible Work Arrangements:
A regular in-branch presence is required. As such, the successful candidate must reside within a commutable distance of Salmon Arm, BC. Consideration will be given to a hybrid (not full) remote work arrangement after the successful candidate has completed probation.
Our Commitment to Diversity and Inclusion:
SASCU is an equal opportunity employer committed to supporting Diversity and Inclusion. We recruit and select applicants for employment solely based on their qualifications, with emphasis on selecting the best-qualified person for the job. We support an inclusive environment where employees feel empowered to share their experiences, ideas, and perspectives.
A bit about SASCU:
SASCU Financial Group offers a broad range of personal and business financial services through SASCU Credit Union and its three lines of business: SASCU Insurance, SASCU Wealth, and Commercial banking. SASCU Credit Union branches are in Sicamous and Sorrento, plus two in Salmon Arm. Established in 1946, SASCU has more than 19,000 members, 150 staff, and $1 billion in assets. In addition, SASCU stewards $235 million in client investments and serves more than 5,000 insurance customers. Learn more at www.sascu.com
The successful candidate will be required to meet fidelity bonding requirements, including completion of references, a criminal record check, and credit check.