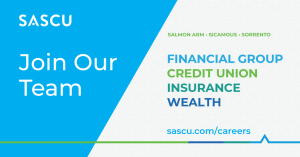 Are you the kind of leader that can move from operational to strategic "mode" – and vice versa – quickly and confidently? Does the prospect of having a positive impact on the communities we serve in the Shuswap region align with your vision of building on an already successful career? If so, we have a lot to discuss.
We invite you to be part of a team where you can feel good about the work you do. At SASCU, we believe in fostering a supportive work environment that is the perfect blend of friendliness and professionalism. Add in a competitive compensation package and excellent benefits, along spectacular natural scenery, and it's easy to see why we are an award-winning employer.
This is a uniquely interesting and challenging mandate for someone who enjoys switching from one business area to another – and can move with agility between our Wealth and Insurance lines of business. As the Director, Wealth & Insurance, you will provide leadership to SASCU's subsidiaries, i.e., a multi-branch Insurance agency and a Wealth division – from recommending and implementing strategies and programs to grow the business, to ensuring that these areas achieve objectives, operate efficiently, and deliver on the SASCU Member Experience. Leveraging your senior management experience, you will also coach direct reports to achieve results, and implement SASCU's sales and service strategy and tactics.
What you'll do:
More specifically, as Director of Wealth & Insurance, you can expect to:
Proactively develop and present Wealth and Insurance strategies to the Vice President, Experience & Brand, that preserve and grow the lines of business, and work with the VP to determine sales targets and Key Accountability Areas for each division;
Manage and direct the overall operation of the Wealth division, and monitor Insurance branch activities, ensuring adherence to established policies, procedures and standards;
Work with the Branch Managers, Insurance, to identify opportunities to introduce new products and services, make recommendations to maximize business growth, build employee engagement, develop plans, and take action to identify any gaps;
Work to identify, negotiate and acquire insurance company contracts, and monitor volume commitments;
Develop and recommend operational plans, budgets, and staffing levels to ensure that the needs of SASCU are met;
Take a strategic approach to analyzing data to identify opportunities and risks;
Champion service standards, providing coaching to ensure consistent behaviours and experiences, taking ownership of Member concerns, and resolving, or supporting staff in resolving, complex and/or difficult service situations;
Represent Wealth and Insurance within the business community, and work within SASCU to promote these lines of business to employees and Members;
Establish positive, productive relationships with external stakeholders in the industries represented by the subsidiaries, across trade associations, in government and regulatory bodies, and within the broader community to ensure successful operations;
Role model SASCU's organizational values and leadership competencies, and ensure strong, open channels of communication and collaboration within the subsidiaries and across SASCU departments.
What you'll bring:
As the qualified professional we seek for the key role of Director, Wealth & Insurance, you will have the following profile:
Post-secondary degree, preferably an MBA, and experience in progressively more complex roles in the Wealth or Insurance field, with 7 to 10 years' combined industry/sales experience, most recently in a senior management role.
Completion of a Senior Financial Planning designation (CFP, CIM) or a minimum of a Canadian Accredited Insurance Broker (CAIB), Chartered Insurance Professional (CIP), or Fraternal Insurance Counselor (FIC) designation, preferably with eligibility to act as Nominee.
Advanced knowledge of all insurance and wealth products, services, and regulatory requirements, including detailed understanding of revenue streams.
Ability to manage complexity, multiple tasks, and priorities for maximum personal and organizational success.
Completion of the Life Licence Qualification Program (LLQP), Certified Life Underwriter (CLU) designation, and Branch Compliance Officer Accreditation are assets.
A bit about SASCU:
SASCU Financial Group offers a broad range of personal and business financial services through SASCU Credit Union and its three lines of business: SASCU Insurance, SASCU Wealth, and Commercial banking. SASCU Credit Union branches are in Sicamous and Sorrento, plus two in Salmon Arm, and an insurance office in Enderby. Established in 1946, SASCU has more than 19,000 members, 150 staff, and over $900 million in assets. Learn more at www.sascu.com.
To apply:
This is an exceptional opportunity to take your career to the next level and be part of our exciting future at SASCU! If you are both community-minded and prepared to contribute to a successful and growing organization, please email a cover letter and résumé to hr@sascu.com.
We thank all candidates for their interest, however, only those selected for an interview will be contacted. The successful candidate will be required to meet fidelity bonding requirements, including completion of references, a criminal record check, and credit check. Employment offers will be conditional on the candidate providing satisfactory proof of COVID-19 vaccination, subject only to valid legal or medical exceptions, and complying with all pandemic/epidemic control measures affecting the workplace.