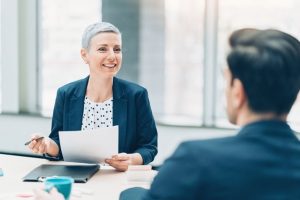 This is a great opportunity to lead an enthusiastic and community-minded team!
We invite you to be part of a team where you can feel good about the work you do and the positive impact you will have in the Sorrento community. We believe in fostering a work environment that is the perfect blend of friendliness, support, and professionalism (not to mention fun)! Add in a competitive salary, and perks such as our employee incentive plan, reduced banking fees, and spectacular natural scenery, and you'll see why SASCU is an award-winning employer.
As Community Branch Manager you will provide overall branch management by leading the team to achieve objectives, ensure operational efficiency, and deliver on the SASCU Member Experience. The Community Branch Manager coaches branch staff to work together to achieve results and implement SASCU's sales and advice strategy.
This position is covering for a leave of absence. The permanent location of the position will be within the SASCU service area (Salmon Arm, Sicamous, Sorrento).
What you'll do:
Coach the branch team on objectives and ensure teamwork to achieve the desired results.
Lead and develop the sales team to meet or exceed individual and team sales and activity targets.
Manage an assigned member portfolio.
Identify opportunities to create branch presence in the community.
Champion service standards and coach for consistency of those behaviours and experiences.
Be visible and accessible, welcoming interaction with employees and members to build rapport, discuss their needs, and resolve concerns.
Participate in talent management planning to ensure business continuity and to develop future leaders across the organization.
Build employee engagement, develop plans, and take action to close any gaps.
Monitor and maintain controls in accordance with policy to ensure operational integrity.
What you'll bring:
A business administration degree or diploma is preferred.
At least 7 years of financial industry experience including at least 3 years at the leadership level.
Demonstrated results orientation in both sales and service.
Solid experience in consumer lending and investments.
Registered as a mutual funds representative or willing to be licensed within a three-month period.
An aptitude for business development and relationship building.
Excellent communication and interpersonal skills.
Access to transportation and willingness to travel within the SASCU community.
This is a full-time, Tuesday to Saturday position. It an excellent opportunity for a community-minded individual to further their career within a successful and growing organization. If this sounds like you, let us know! To apply, please email a cover letter and résumé to us at hr@sascu.com.
A bit about SASCU:
SASCU Financial Group offers a broad range of personal and business financial services through SASCU Credit Union and its three lines of business: SASCU Insurance, SASCU Wealth, and Commercial banking. SASCU Credit Union branches are in Sicamous and Sorrento, plus two in Salmon Arm. Established in 1946, SASCU has more than 19,000 members, 150 staff, and over $1 billion in assets. Learn more at www.sascu.com
Our Commitment to Diversity and Inclusion:
SASCU is an equal opportunity employer committed to supporting Diversity and Inclusion. We recruit and select applicants for employment solely based on their qualifications, with emphasis on selecting the best-qualified person for the job. We support an inclusive environment where employees feel empowered to share their experiences, ideas, and perspectives.
We thank all candidates for their interest; however, only those selected for an interview will be contacted. The successful candidate will be required to meet fidelity bonding requirements, including completion of references, a criminal record check, and credit check.